DON'T PAY STICKER PRICE AT ANOTHER FORD DEALER!
NO HASSLE!  NO HAGGLE!
FOR OVER 30 YEARS LOUISBURG FORD HAS BEEN SELLING NEW FORD VEHICLES AT
$50 OVER FACTORY INVOICE!
THIS PRICING MEANS HUGE SAVINGS FOR YOU!
$50 OVER DEALER COST AND WE PASS ALONG THE REBATES!
LOUISBURG FORD IS THE ONLY DEALER SELLING AT THIS PRICE EVERYDAY
NEW VEHICLES AT THOUSANDS BELOW INVOICE AFTER REBATES!
THE PRICE YOU SEE ONLINE IS THE LOWEST PRICE IN TOWN!


THIS IS A FACTORY INVOICE SHOWING
THE LOUISBURG FORD PRICE THAT WILL SAVE YOU MONEY!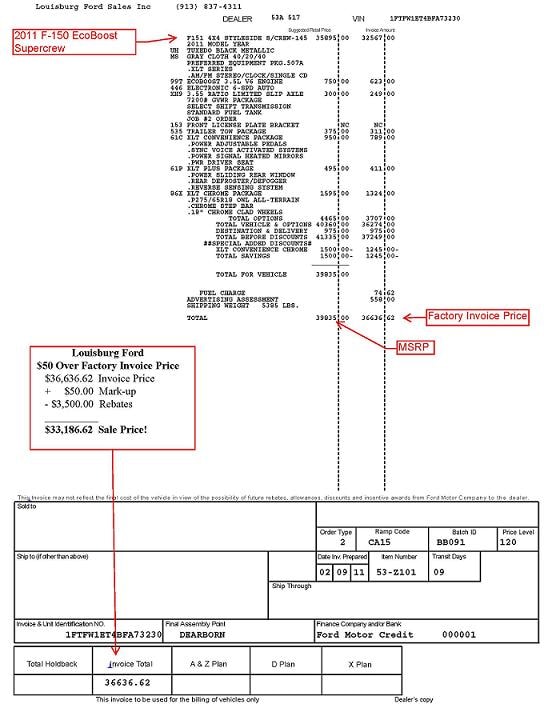 Advertised prices include current applicable Ford Factory rebates,
and Ford Motor Credit rebates.  Advertised pricing may not be applicable with incentivized
interest rates.
F-150 Raptor, Focus RS, Shelby Mustang GT 350 are excluded from $50 over invoice pricing due to limited production.
Price and Rebates are subject to change without notice.  
Price quotes via email are not binding, please contact Louisburg Ford for specific information.